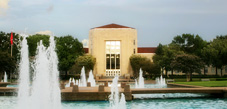 UIT walk-up service has moved
UIT walk-up service in PGH has moved to Technology Commons, 58 MD Anderson Library, due to construction in 116 PGH. All password resets, classroom equipment and laptop services have moved to Tech Commons.

Hours: Monday-Friday, 8 a.m.-midnight; Saturday-Sunday, 8 a.m.-8 p.m.

Laptop services available until 8 p.m. Monday through Friday.

For information, contact the UIT Support Center at 713-743-1411 or support@uh.edu.