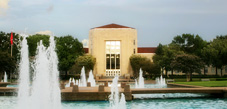 Real Food on Campus in Oberholtzer Hall to remain
The Real Food on Campus dining hall in Oberholtzer Hall (OB) will remain open for the fall semester until the new dining facility is completed.

The new dining facility on the corner of Wheeler and Cullen originally was scheduled to open at the beginning of the fall semester, but due to construction delays will not open until the middle of the semester. Until that time, the RFoC in Oberholtzer Hall will continue to serve students, faculty and staff as it has done for over 50 years.

There will be a few changes in the setup since Catering on Cullen is also utilizing that space while the University Center undergoes renovations. The cash register, servery and seating area will all move into the multipurpose room just a short walk down the hall from the original dining area. This room was previously used as an extension of the dining hall and has everything needed to take on that role again.

The convenience store in Oberholtzer Hall will not re-open during the fall semester, but a brand new Cougar Xpress Mini Market will take its place in the new facility when it opens. Until that time, customers are invited to visit the Cougar Xpress Market in Cougar Village.

For more information about UH Dining Services, visit www.uh.edu/dining.