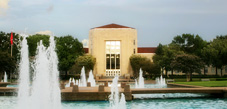 COUGAR LINE BUS STOPS GET AN UPGRADE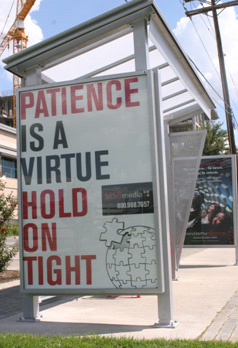 Shuttle riders can now wait in the shade with the installation of six new bus shelters.

In early August 2011, UH Parking and Transportation Services added the visually appealing shelters to the main bus stops on campus. Bus shelter locations are: Bates Law Building/Calhoun Lofts, University Center, Campus Recreation and Wellness Center/Welcome Center, Moody Towers, Oberholtzer Hall, and Bayou Oaks.

Inside of the shelters, students will find a shuttle map displayed in the back panel and a dedicated area for student postings. UH Parking and Transportation Services also added QR signs at the stops. Riders with smart phones can scan the QR codes to access NextBus information and check the shuttle arrival times for their route.

UH affiliated organizations also have an opportunity to notify the campus community of events and programs on the bus shelters with the availability of ad space. Large display panels can be purchased at a reasonable cost at each of the six shelters on campus. Located at the highest traffic points on campus, these ads can increase brand awareness for a business by repeated exposure to the ads with a daily effective circulation of 13,200.

All ads are four feet wide and six feet tall and can be purchased for a monthly rate that is less expensive than newspaper, radio or television ads on campus. Limited locations are currently available and pre-booking is recommended. Once a space is contracted, the purchaser will not be invoiced until their ad campaign begins.

For more information or to reserve an advertising panel, contact Kim Wallace at MSSmedia at kim@mssmedia.com or 305-358-8868 ext. 29.