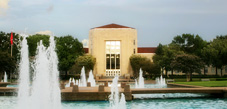 STUDENTS FIND PARKING SOLUTION AT ERP
With record enrollment this year and various construction projects throughout the campus, many students have made an effort to find a new solution to their transportation needs. The shuttle lot at Energy Research Park has become a popular option for many commuter students during the first week of the semester, and an additional 300 spaces were added in time for the second week.

�The additional 300 parking spaces will not only benefit the UH students but will also improve parking for the tenants at the Energy Research Park. Also the new loop road for the bus route will help expedite transportation to and from the campus,� said Robert Browand, Director of UH Parking and Transportation Services.

Student commuters can park in student commuter or economy spaces at Energy Research Park and ride a shuttle that drops off in front of the University Center. There are three shuttle buses for the route, one of which is the ERP Express that runs directly from the ERP parking lot to the UC throughout the day. The other two shuttles make an additional stop at a METRO Park and Ride station.

�I like it. You don�t have to look around for parking,� said Mayra Gutierrez, a math sophomore that parked at ERP the first week of classes. �I�d rather go straight there instead of having to drive around and look and then go.�

Thomas Sharp, a mechanical engineering sophomore, said he tried parking on campus the day before and ended up at the far end of one of the temporary lots. So that day he decided to try ERP. �Today I got here at about the same time and parked here, no problem. There were rows that were still empty.�

With an increase in traffic during the first week, wait times were averaging between 15 to 20 minutes, but these times are expected to improve as the semester goes on and traffic becomes lighter. The ERP shuttles start up at 8 a.m. and run until 8 p.m. Students that need a ride to the lot after 8 p.m. may request a ride from the Campus Loop driver until 11 p.m. Monday through Thursday and until 9 p.m. on Fridays.

During the first week of classes, UH Parking and Transportation Services worked diligently to complete the repaving of a portion of the economy lot at ERP. The expansion was completed on Monday, August 29, to add another 300 parking spaces to the economy lot. Once the back lot opened to make the spaces available to students, seven rows of the covered parking area were expected to be converted to faculty/staff parking for those working on the Energy Research Park campus. Overall, the ERP lot can hold 500 spaces for student commuters with another 150 spaces available in the covered area as needed.