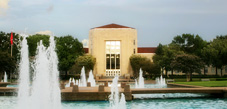 UH PARKING AND TRANSPORTATION SERVICES LAUNCHES COMMUTER CLUB
UH faculty and staff now have an extra incentive to leave their cars at home. UH Parking and Transportation Services (PTS) has launched the Commuter Club, a program designed to reduce the number of cars driven to campus by offering rewards to those choosing alternative transportation.

PTS started the Commuter Club in order to reduce peak hour commuter trips to the campus to help our parking challenges while also helping to reduce carbon emissions. Members can receive rewards for using alternative transportation such as METRO, carpools, vanpools, bicycles or walking to campus.

For those members choosing to utilize METRO, PTS has pledged to pay 25 percent of the cost of bus fares and offer pre-tax payroll deductions for those fares. Also, members of the Commuter Club may also be eligible to receive a membership to the Hertz on Demand car sharing program, a Hertz rental discount, complimentary daily permits for days you need to drive your car, and access to the Emergency Ride Home Program which provides a way home when an unexpected emergency may arise. In addition, members will receive a free light-weight messenger bag when they sign up for the Commuter Club.

Members can also register their carpool to become eligible for reserved parking spots. Not only can carpoolers find easy parking, but they can also utilize HOV lanes and split the costs of a permit and gas. Vanpools are also eligible for reserved spots and can carry from seven to 15 passengers. Members can use vanpools on a part-time or full-time basis and become eligible for vanpool subsidies.

Full-time faculty and staff that work at the UH main campus during the daytime are eligible for Commuter Club membership. All participants must not drive to or park on campus throughout the duration of their membership and cannot purchase a parking permit other than one-day temporary permits throughout the year. If a parking permit has already been purchased, participants can return the permit for a pro-rated refund at any time after joining the Commuter Club.

Sign up to join the Commuter Club and get rewarded. Members must renew their membership prior to the start of each academic year to remain eligible for club benefits. For more information on the Commuter Club, visit the PTS website.