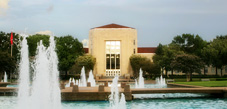 University of Houston Addresses Watering Challenges in Midst of Drought
With Texas in the midst of an historic drought and Houstonians facing residential water restrictions, the University of Houston also is addressing serious watering challenges. The university is still watering, but doing so strategically and in accordance with stage 2 water conservation measures.

According to UH Landscape Planning and Grounds Manager Roger Warner, the university is engaged in the delicate balancing act between keeping the campus healthy for returning students, and being good environmental citizens. Facilities Management is tasked with maintaining the campus� 667-acres of landscaped property.

The automatically controlled irrigation system, which operate 95 percent of the campus sprinklers, is in the process of being adjusted to a Wednesday-Saturday, Thursday-Sunday schedule. The 11 watering zones on campus that represent the remaining 5 percent of sprinklers must be manually operated. The responsibility of hand-controlled irrigation has been moved to the early shift so that it takes place during the morning hours.

�You will see us watering, but we are doing so mindful of the current drought and with a specific strategy in place,� said Warner.

Other water-related priorities include immediately addressing irrigation leaks within 48 hours. The dry ground is taking a toll on the university�s landscaping infrastructure, keeping grounds and maintenance personnel busy with repairs.

There are several specific circumstances where the campus community may see watering happening during the day. Those include the ongoing effort to save young trees that were planted in the winter and spring. The trees replaced those lost during Hurricane Ike in 2008. The young trees, as well as trees showing signs of shock, are being hand-watered at the base in an effort to save the trees and the investment in replacing the trees.

The other exception to the late evening and early morning watering is the athletic and sports fields. The fields are closely cut and the stress of the high heat requires that they be watered during the day. If not, the fields will very quickly deteriorate and become a health and safety issue for athletic and intramural student-athletes.

Warner said he keeps in contact with his counterparts at other area universities such as Rice and St. Thomas to make sure they are sharing information, procedures and best practices.

�The drought poses a significant challenge to the university, but we know we are not alone, most of Texas is facing a similar scenario. As this continues and in our effort to be a good community partner, we want to make sure we are doing our part to reduce consumption,� said Warner.

If you have any questions, please contact Roger Warner, Landscape Planning & Grounds Manager at 713-743-9671 or rwwarner@central.uh.edu.