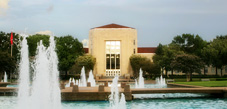 Lecture by Robert Wittman, Author and Founder of FBI�s Art Crime Team
Art lovers and other members of the University of Houston community were invited to attend a presentation by Robert K. Wittman, former senior investigator of the FBI�s National Art Crime Team and author of the New York Times best seller Priceless.

Wittman presented the lecture �Pursuing the Priceless: Stolen Art, Investigation and the Law� at the Museum of Fine Arts, Houston�s Brown Auditorium at 7 p.m. on September 8.

Wittman also delivered a free lecture to members of the UH community at 9 a.m. on September 8 in the university�s Cullen Performance Hall.