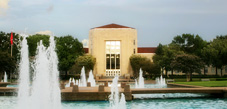 AWARENESS PAYS OFF WITH SUSTAINABILITY GAME SHOW
Increase your green IQ and get paid by entering the first ever �Who Wants to Be an (Eco-) Millionaire?� contest hosted by Green UH. Students from the College of Liberal Arts and Social Sciences (CLASS) have the first opportunity to study up on sustainability trivia and win cash and prizes.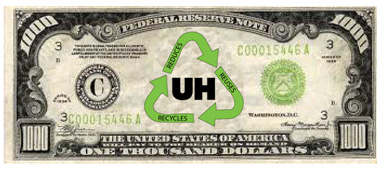 �We want this event to increase sustainability literacy, explore sustainability through subjects students are interested in and have fun while doing it!� said Leah Wolfthal, sustainability coordinator for UH University Services. �We chose to focus on liberal arts for the first game show because, unlike the sciences or business, with a few notable exceptions, those disciplines are often left out of the discussion of our interaction with sustainability thinking.�

�Who Wants to Be an (Eco-) Millionaire?� will put CLASS students� sustainability knowledge to the test on October 18 from 7 p.m. - 8:30 p.m. in the UC Houston Room. Contestants will compete to win a top cash prize of $1,000! Each contestant will be asked a maximum of 15 multiple choice questions about sustainability on campus, in general, or related to their major. The contestant will have 60 seconds to answer the question correctly before they can move on. Just as in the game show on television, prizes will depend on the level reached by the contestant. Also, contestants can enlist the help of three chosen friends who must also sign up prior to the contest.

To be eligible to compete, students must be enrolled in at least one class in CLASS and/or have a declared major in the college. Sign ups are open from September 1 through October 5 for contestants and their �friends� here. Guests are also welcome to order tickets online prior to the event or up until the evening of the contest. There will be a $5 entrance fee at the door the day of the event.

Contestants will be chosen at random and called up onstage as the host puts them in the �hot seat� as the questions pop up on a projector screen. To add to the drama, music composed by one of our very own UH students will be heard throughout the show.

For more information on �Who Wants to Be an (Eco-)Millionaire?�, click here for a list of prizes and game rules. Everyone is invited to come watch the fierce competition and learn about sustainability!