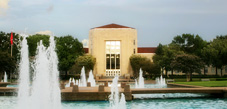 Standard Format for Deposits

Beginning September 1, 2011, UH departments are asked to use a standard format for journal line descriptions all cash, check, and ACH deposits to make the bank reconciliation process faster and more efficient.

The standard format (including examples) is located on the Finance website under �Cash/Check and ACH Deposit Procedures�.

If you have any questions, please contact Regina Regusa, Financial Manager of Bank Reconciliations & Endowment Accounting, at 713-743-8584 or rragusa@uh.edu.