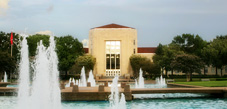 TEXTBOOK LOANS AVAILABLE FOR UH STUDENTS IN FALL
The beginning of the semester can be stressful, but as a UH Cougar, there�s no need to worry about affording your textbooks. UH students can get some financial help with the availability of textbook loans.

This fall, students can get a short-term loan of $400 to go toward the purchase of their textbooks and supplies at the UH Bookstore located in the University Center. From August 1 through September 7, all students enrolled in at least six hours of classes are eligible to receive the loan by applying online at myUH.

Once the loan is approved, the funds will become available at the UH Bookstore within two hours. Students can simply do their shopping and claim their loan at checkout by providing their myUH student ID number and a photo ID to the cashier.

Loans must be used by September 14 to remain valid. Students will have 60 days to pay off their loan through their myUH account.