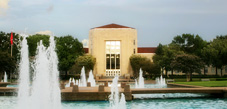 UH BOOKSTORE HAS AFFORDABLE TEXTBOOK OPTIONS READY FOR THE FALL
Costs can add up for college, and the UH Bookstore is prepared to help students find a better solution to their textbook needs. Students will find the most affordable options available for their textbooks at the UH Bookstore as they begin the school year.

�We are excited about fall 2011. With all the options available like rental, digital, used and new textbooks for our UH students, we are confident our customers will pick the best option for their study habits and budgets,� said Felix Robinson, general manager for UH Bookstores.

So far for the fall semester, 74 percent of total courses have a rental title available, and 43 percent of courses have a digital title available.

The rental program has been gaining popularity since its launch in August 2010. Students can save over 50 percent compared to buying a new book and use financial aid, school debit or credit cards for the rental. The UH Bookstore will send out an email to students at the end of the semester to remind the renters to return the books the day after finals. Students can also convert the rental fee into a purchase within the first two weeks of class if they decide they want to buy the textbook. Robinson said 99 percent of students who rented from the campus bookstore said they would rent again. He recommends for students to shop early because rental textbooks are the first to go.

Robinson also encourages students to consider purchasing digital textbooks in order to save up to 60 percent off compared to the price of new books. Students will also receive the e-textbook immediately. Barnes and Noble has a free e-textbook application called NOOKstudy that allows students to organize their materials and study smarter.

For more information on textbook options at the UH Bookstore, visit www.uh.bkstore.com. To watch a video on textbook rentals, click here.