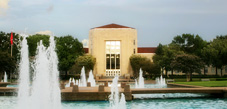 WATERMONSTERS A REFRESHING HIT WITH STUDENTS AND VOLUNTEERS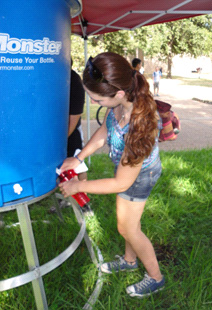 It was a hot beginning to the semester, but students and volunteers found plenty of refreshment with hydration stations on campus. The WaterMonster stations, provided by Administration and Finance in conjunction with Cougar First Impressions, were a new addition this year to the first days of class as well as residential move-in. The WaterMonsters offered a cold drink to our students and volunteers while also providing a green solution to reduce trash.

During the first two days of class, eight WaterMonsters were set up in locations across campus including Philip Guthrie Hall, Welcome Center, East Parking Garage, Graduate College of Social Work and other high traffic areas. WaterMonsters were also on hand for faculty/staff volunteers and our residential students and their families as they unpacked and moved into the residence halls. Throughout these first days of the semester, thirsty students and volunteers stopped by to refill their own water bottles or to fill up a recyclable paper cup to quench their thirst.

�They should have them all the time,� said Frank Tai, a biochemistry senior. �It�s a good concept. It will definitely cut down on trash, especially if people bring their own bottles.�

Each Water Monster contains 125 gallons of water, which is approximately the same amount of water found in 600 large water bottles. All the water is filtered and kept cold throughout the day by adding ice regularly. The estimated water consumption during the two move-in days and first two days of class was around 1,600 gallons of water and ice which is equivalent to 25,600 8-ounce bottles of water.

The WaterMonsters and MonsterCoolers are a part of H2O Operations based in Austin, Texas. The company started in March 2009 as a logistical solution to providing mobile water distribution stations at large events such as marathons, concerts or sporting events. These water stations have been found at such events as the Capital of Texas Triathlon, the Dallas Mayor�s Back to School Event at Fair Park and during University of Texas Tailgating.

To learn more about the Water Monster, visit www.thewatermonster.com. Check out other green initiatives on campus by visiting www.uh.edu/green.