Facilities
Ronald Sampson receives President's Excellence Award
By Emmanuella Aina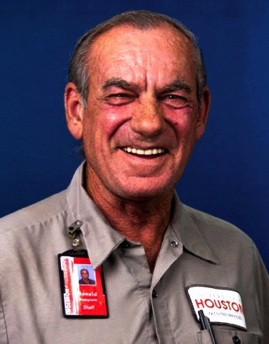 The President's Excellence Award recognizes meritorious service, dedication and contribution to the University of Houston beyond the requirements or expectations of the job. It is no doubt that Local Maintenance Services Lead Plumber Ronald Sampson exemplifies all these traits.
He started his career as a plumber after his stepfather advised him to get a trade where he could start from the bottom and work his way to the top. He then went on to receive his journeyman plumber's license, after which he began working at a plumbing company in Victoria just before joining the University of Houston 12 years ago.
Sampson was surprised to learn he was a recipient of the President's Excellence Award because it took him many years to get here. He is glad to be recognized for his skills, knowledge, dedication and years of service. He is living out his dream of owning a three-acre ranchette with a barn and horses with his family in Manvel.
He encourages students to be the best they can in any field they choose, so they can reach great heights by being consistent at being the best at what they do.
Sampson plans to work with Facilities Services until he retires.
"I love the work environment provided here and the new adventures I embark on each time I go on campus and fix up one of these old buildings," he said.