CAMPUS SAFETY
Davis, Walker recognized at Staff Excellence Awards
By Cindy Granier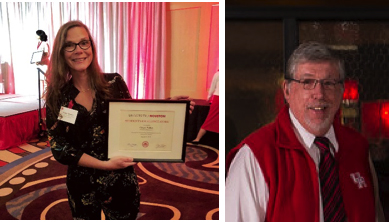 University of Houston Campus Safety congratulates staff members for being recognized at the 2018 Staff Excellence Awards.
Assistant Vice Chancellor/Assistant Vice President for Campus Safety Malcolm Davis was recognized for his 35 years of service.
Emergency Management Specialist Ginger Walker was recognized for her 20 years of service. In addition, she was selected as a 2018 University of Houston President's Excellence Award winner for her generous contribution to the University beyond the requirements and expectations of her job description.
Davis and Walker are both experts in their own field and friends of many. Campus Safety appreciates their expertise and dedication to the department and to UH.