CAMPUS SAFETY
Outdoor warning siren alerts UH community to shelter in place
By Valarie Smith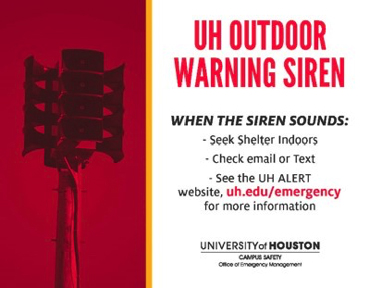 The University of Houston Outdoor Warning Siren System is designed to alert students, faculty, staff and visitors in the event of a shelter in place emergency where it is unsafe to be outdoors.
The system is activated by the University and provides a quick method of notifying the entire campus with an audible tone that can be heard outdoors. It is not intended to be heard indoors.
If the alarm sounds, people who are outside should seek shelter inside a building and remain there until the all clear is given.
During an emergency, the siren system is used in conjunction with the UH ALERT emergency notification system, which includes other communication channels like text message, email, the UH ALERT website, social media channels, digital signage and the UH Go mobile app. For more information about UH ALERT, visit here.
The siren system is tested monthly on the first Wednesday of every month at 1 p.m. These tests are announced via email from the UH ALERT system.
For more information and to view frequently asked questions, visit the UH Outdoor Warning Siren System website. The UH community may also print out and post the Siren Awareness poster in their buildings.