Facilities Planning & Construction
Cougar Woods, TDECU Stadium receive AIA Houston design awards
By Kristina Michel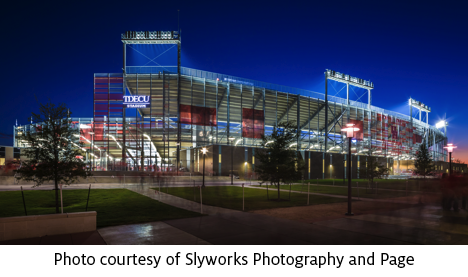 Two University of Houston construction projects were recently awarded American Institute of Architects Houston 2015 design awards.
TDECU Stadium won in the architecture greater than 50,000 square feet category, and Cougar Woods Dining Hall won in the architecture less than 50,000 square feet category.
TDECU Stadium, which opened in August 2014, is home of the Cougar football games and a site for several community events and concerts. A permeable, patterned enclosure that wraps around the back of the stands allows natural light to filter onto the concourse while protecting fans from the elements. It gives the stadium a unique look and character from other collegiate stadiums throughout the country.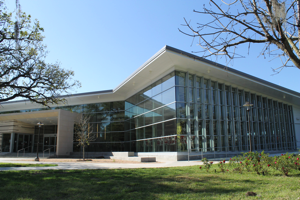 TDECU Stadium also recently won the AIA Austin design award in the commercial built category. In their video discussing the award, the judges described the stadium's unique design as "modern" and "forward-thinking."
Opened in 2012, Cougar Woods is UH's first LEED-certified building. The building was designed with sustainability in mind. Its unique wall of windows maximizes the use of natural light, and its water-conserving plumbing fixtures help the building save up to 20 percent of water usage. Cougar Woods received its LEED certification in 2013.
Both TDECU Stadium and Cougar Woods were designed by Page architecture and engineering firm.
For a full list of 2015 AIA Houston design award winners, visit AIAHouston.org.