Sustainability
Edible gardens are as easy as ABC
By Urban Harvest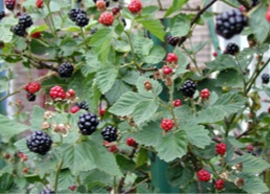 If you enjoy the flavor of fresh from the garden, but are not willing to trade azaleas, boxwoods and camellias for apples, beets and carrots, no need to worry, there is a middle ground. Getting there is as simple as ABC.
A) Fruit: Fruit trees can be added to any sunny spot in the garden. Apples, pears, figs, citrus and persimmons are fruits that produce very well in our area with little care. There are fruit trees that provide the same attributes as their ornamental counterparts - spring flowers, fall foliage and fruit color, evergreen screening, fragrance as well as foliage color and texture. Next time you consider adding a tree to your landscape, consider a fruit tree that accomplishes the same goal you're looking for in an ornamental. Other fruiting plants may be incorporated in the same manner. Fruiting vines can be substituted for traditional vines grown on arbors or bare fences and garden walls. Hedges and accent shrubs become edible garden elements when fruits such as blueberries, feijoa and pomegranate are used. Consider strawberries as a groundcover with a unique bright green foliage, cheerful white flower and ultimately, sweet juicy fruit.
If your garden has limited space, espaliered fruit offer the answer. An espalier is a tree or shrub grown flat against a wall. Most fruit trees are sold as bare root plants in January, and their pliable young branches are easily pinned to a wall. Your best bet is to purchase fruit trees at the Urban Harvest Fruit Tree Sale on the third Saturday of January. There you'll find more than 40 different types of fruit bearing trees, shrubs and vines, each with multiple varieties. Visit the Urban Harvest website, urbanharvest.org, for upcoming postings.
B) Containers: Container gardening is a solution for gardeners who don't have the time or energy for a full-blown garden as well as wannabe farmers that lack proper space. Both are conditions resolved by the containers. Start with as many as you like, you can always replant with ornamentals if you become overwhelmed. In addition, if you are absent for extended periods in the summer months, or don't want to deal with the heat, they can be left idle or stored out of sight.
For homeowners, house walls, fences and tree canopies play havoc with plans for a kitchen garden. Sunny areas in an urban lot change as the sun's position in the sky changes. Containers can be moved to follow the light, allowing for example, an uninterrupted tomato harvest as the sun sinks from its fairly high position when the plants are planted in August, to a relatively low position when they are harvested in October and November.
Containers are small pockets of earth for landless dwellers. A collection of containers on a sunny balcony can produce bountiful harvest. Water-saturated container plantings can be heavy, so before planning your garden, learn of any weight restrictions your balcony may have. Window boxes or narrow rectangular pots for wide window sills also are options. Urban Harvest is offering a Self Watering Container Gardening class, on Saturday, October 25th UHI Classes Calendar
C) Trade-ins: There are edible options for groundcovers and accent plantings. In the warm season sow bush beans, Spicy Globe Basil, arugula or varieties of watermelon or cantaloupe as summer groundcovers. Herbs such as prostrate rosemary, lemon balm, thyme or mint (sometimes a little too well) provide evergreen groundcover given our mild Houston winters. Chives or multiplying onions offer a spiky texture for yearlong accent in the garden. In addition to the onions and chives, the flowers of these plants add a delicate zest to many foods.
In the cool season leaf lettuces, greens, radishes and carrots become a lush groundcover alternative and are easily seeded. Heirloom lettuce varieties offer a variety of color and texture. The colors of Bright Lights chard are so vibrant it often is used in ornamental color plantings.
Crops that climb such as pole beans, peas, cucumbers and squash offer an edible alternative and can be grown on trellises or trained on a blank wall or fence. If you've experienced ornamental vines that threaten to overtake your home without constant pruning, you'll appreciate vining edibles that reach maturity in one season, can be removed after fruiting, and then be replaced with the next season's vining crop.
These are a few suggestions for replacing traditional ornamentals with something that produces fresh nutritious food. Examine your garden with a fresh eye to discover areas ripe for changing into edible producing pockets.
This column is produced by Urban Harvest. Learn about gardening classes, community gardens and orchards, farmers markets and more at the www.urbanharvest.org. Suzy Fischer is a registered Landscape Architect and principal of Fischer Schalles, a landscape design/build firm. Contact her at Suzy@FischerSchalles.com.