Facilities Management
Kiva Room latest to receive energy efficient LED lights
By Richard Zagrzecki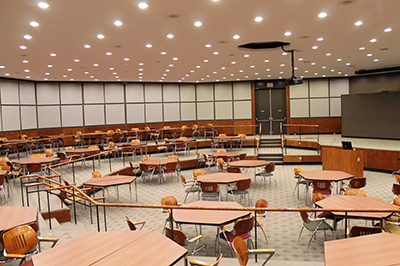 More lights on campus have been switched out to LED lamps, which will save the University of Houston energy and money.
The latest switch took place in the Kiva Room in Farish Hall. The 272 can lights in the lecture hall that had been using 150 watt bulbs were replaced with energy efficient and longer lasting 15 watt LED lamps, said Assistant Director of Central Plants and Mechanical Equipment Michael Burriello. The change equates to approximately 36,720 watts per hour being eliminated.
"That's a 10 times reduction in energy that will result in an ongoing financial savings for the University of over $27,000 annually," Burriello said.
The Kiva Room is just the latest location on campus that Facilities Management has targeted for the LED lights. Last winter, lights were replaced at the Campus Recreation and Wellness Center and the UC Satellite. After the spring semester ended, new lighting was installed in the Fresh Food Company in Moody Towers.
Not only do the LED lights use less electricity, they also emit less heat and require less maintenance. During the hotter months of the year, that translates into less air conditioning required to cool the space, which means lower operating costs at the Central Plant, with an additional decrease in electricity costs in operating the A/C systems.
"If you look at this installation from a life cycle cost perspective and translate the savings into future dollars, the total savings can be tremendous," Burriello said.
The change in light output with the LEDs is so subtle that most people won't even notice any difference.
"In the long run, this will result in a substantial savings for the University as more and more lights are switched out," Burriello said. "It's a winning situation all the way around: less electricity, less air conditioning, less maintenance costs, more consistent lighting levels."
Facilities Management is also taking a hard look at the high intensity discharge bulbs used across campus, which are "energy hogs" and require a high level of maintenance. In addition, the UH community will soon see new LED walkway lights being installed along the unlit portion of walkway between the Cullen Performance Hall and the pavilion in Lynn Eusan Park.