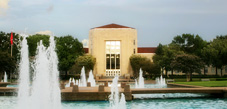 UHPD swears in five new officers

The University of Houston Police Department held a swearing in and badge pinning ceremony on Sept. 17. The ceremony involved pinning the five new police officers who were recently hired.

Each new officer was recognized by name and with a brief biography including their reason for coming to the University of Houston. They are: Anthony Adams, Gilberto Arroyo, Jr., Justin Carter, Walter Richard, Jr. and Adrian Smith.

Along with the new Police Officer appointments, five Police Officers were promoted. Aaron O�Donley was promoted to the rank of Sergeant, LaTorsha Batts, Troy Golden, Debra Pruitt and Chad Leveritt was all promoted to the rank of Corporal.

Former Assistant Chief of Police Brad Wigtil was on hand to receive a commendation from Chief of Police Ceaser Moore for his dedication and service to the University of Houston. Chief Moore shared a few words about Brad and then made the presentation.

The highlight of the event was with the presentation by Chief of Police Ceaser Moore. He presented the first ever University of Houston Challenge Coin. These coins are given out to Police Officers when their performance has risen to a level that is by far above and beyond. Immediately after the unveiling of the new Challenge Coin, Chief Moore presented the first coin to Police Officer Isaac Barnett. Officer Barnet showed his dedication to the University of Houston and the Police Department by apprehending a suspect that the Police Department has been pursuing for several days, while off duty.

After the presentation of the new UHPD Challenge Coin, Chief Moore made one last presentation. This particular presentation was close to everyone�s hearts. He introduced a separate Challenge Coin dedicated to the first Chief of Police for the University of Houston Sterling Baker. Mr. Baker was in attendance and was presented with the special award.