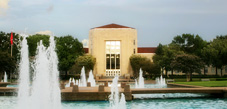 Grand opening celebration set for new dining hall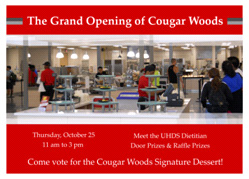 You�re invited to celebrate with us at the Grand Opening of the Cougar Woods Dining Hall and the Cougar Xpress Mini Market on Thursday, Oct. 25.

Stop by from 11 a.m. to 3 p.m. to meet our dietitian, win door prizes and enter a raffle for a Sony PlayStation� 3! Additionally, you will get a chance to vote for Cougar Woods� signature dessert out of three of our chef�s top choices. So if you have a favorite dessert, make your vote count!

Cougar Woods is the first building on campus to qualify for LEED (Leadership in Energy and Environmental Design) Silver certification, and is in the process of applying for this distinction. The dining hall is located near public bus stops and adjacent to an open area filled with trees and vegetation. Its special design allows it to save energy by maximizing the use of natural light that flows through its many windows. It also is able to save up to 20 percent of water usage with its plumbing fixtures that were made with water conservation in mind. As it was being built, there was a strong push to minimize construction waste and to use materials wisely. In addition, an effort was made to maintain indoor air quality. The building is expected to save up to 30 percent on energy usage through its high-efficiency HVAC equipment and other strategies for reducing energy demand.

For more information about our sustainability efforts on campus, visit www.uh.edu/dining or www.uh.edu/green

RSVP to the Facebook event and we�ll see you there!

For more information about UH Dining Services, visit www.uh.edu/dining or www.fb.me/uhdining.