Employee Spotlight
Dolores Woods
Director of Wellness & Sustainability
By Mallory Doeckel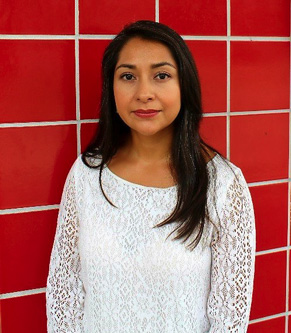 Dolores Woods is the University of Houston's director of Wellness & Sustainability, who joined the campus this past June.
In this role, Woods not only serves as the campus dietitian providing nutrition counseling to faculty, staff and students, but is also responsible for sustainable initiatives within campus dining, as well as a range of programming for campus.
She works with the directors and chefs in the two campus dining commons to bring UH Dining's sustainability initiatives to life. A few examples of this include connecting with small farms to bring local produce into the dining commons and developing waste reduction initiatives.
Several of the campus programs that Woods leads include the UH Farmers Market, which is open to the entire campus community, and UH Dining's Teaching Kitchen, where students learn first-hand from a cooking pro how to create different food items. Both of these programs occur throughout the fall and spring semesters.
Woods works with the UH System as a whole to find ways to expand the programs offered on all UH System campuses, including bringing workshops and counseling to UH-Downtown, the Teaching Kitchen program to UH-Victoria, and a farmers market to UH Sugar Land.
What made her want to get into this field in the first place? Woods explained that her path to being a dietitian started out differently than most. Due to the scientific nature of a dietitian's schooling and training, many have a more clinical interest, but for her it was a love of food.
After her undergraduate education, she pursued her interest in cooking and baking by attending culinary school and then teaching local cooking classes. Her students in these classes often asked about the health effects of different foods. Wanting to have a better understanding of the health side of food herself, Woods decided to go back to school to become a dietitian.
Woods has a master's degree in food studies from NYU, and after that went through a coordinated dietetic program, which combines a school program with an internship.
After becoming a licensed dietitian, she worked in University Food Services at UCLA for about seven years, developing healthy options in the food halls, nutrition and wellness programs for campus, and serving as chair of the university's employee wellness program.
She found the dietitian path fulfilling because it's a way to make a major impact on people's lives through the food they eat, especially when dealing with the population in a university setting. With the prevalence of fad diets and bad information on the internet, Woods said a lot of her job is debunking those myths and setting people on the right path.
"Teaching people what being healthy means for them and exposing them to information to develop healthy habits is what I love to do," she said. "I enjoy the preventative side of health rather than the intervention side that takes place in a hospital setting."
In her free time, Woods loves to bake, especially bread. She and her husband enjoy spending time on their new small sailboat. She also runs in races to give herself the motivation to stay active. She's completed a number of half and full marathons and this year she will participate in her first Houston Half Marathon.