Sustainability
Sponsors and volunteers sought for upcoming Sustainability Fest
By Richard Zagrzecki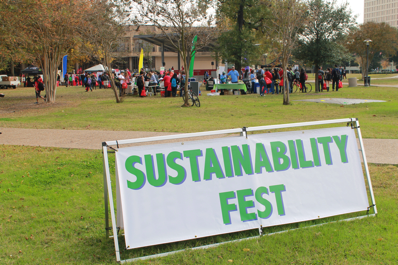 The call has gone out for sponsors and volunteers for Sustainability Fest, which will be held at the University of Houston later this fall.
The fun and educational event, which will take place Nov. 17 from 11:30 a.m. to 1:30 p.m. in Lynn Eusan Park, offers the UH community practical information about how to live more sustainably, while also highlighting sustainability initiatives across campus and the city.
The Office of Sustainability is seeking sponsors who can provide monetary donations or raffle items, such as bicycles, gift cards, event tickets, books and camping equipment.
"With the help of generous sponsors, we can educate students – who are trailblazers in the making – to become mindful, resourceful and sustainability-driven global citizens," said Joanne Ma, the Office of Sustainability's outreach assistant.
Four different sponsorship levels are available: bronze, silver, gold and platinum. Sponsors will be included in news releases, on social media, the Sustainability Fest Partners webpage, campus advertisements and on-stage sponsor spotlights. To learn more about the sponsorship levels, click here.
Volunteers are needed for various duties. People can man the water station, help with the waste stations, serve at the check-in and registration table, set up the event in advance and clean up when it is over.
"The event could not be a success without the hard work of dedicated volunteers," said Sarah Kelly, program manager for the Office of Sustainability. "All volunteers will receive lunch and, of course, will have a lot of fun."
Individuals or groups who are interested in becoming a sponsor should fill out the online sponsorship form by Oct. 16. Those who would like to be a volunteer should sign up online by Oct. 20.
For more information about Sustainability Fest, visit www.uh.edu/sustainfest, the event Facebook page, or watch the video from last year's event.