Student Spotlight
Nikhil Schneider
Office and team lead for the Office of Sustainability
By Richard Zagrzecki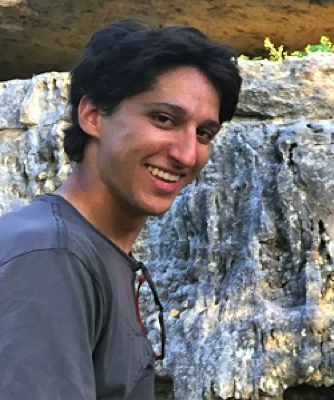 Nikhil Schneider spends a lot of time hanging around campus. Literally.
Schneider, an environmental science senior from Bellaire, works part-time at the rock climbing wall at the Campus Recreation and Wellness Center. He not only assists others, he also scrambles up the wall himself from time to time as a way to relax and have fun.
Last year, he was part of the UH Wall Crawlers, a student organization that introduces people to the sport of climbing. The group competed in various events at other universities and even hosted a competition at the rec center.
"We had climbers come to UH from different universities. It was really fun," Schneider said.
His love for climbing isn't restricted to the indoors. Through the outdoor adventure program at the rec center, he has led a couple of rock climbing trips in central Texas.
This past summer, he applied for and was hired as the office and team lead for the UH Office of Sustainability. In the part-time position, he leads a group of six other student workers working on various projects. The job is a good fit for Schneider, who is pursuing the energy and sustainability minor that was recently added at UH.
When he graduates from UH – which he expects will be this coming spring – he hopes to find a job in the Houston area, perhaps somewhere within the energy sector, such as working on small-scale alternative energy solutions. He also has an interest in working with children in outdoor settings. If he found a job that allowed him to work with kids and show them how fun it is to be outside, he would seriously consider taking that path.
Schneider is the first person in his family to attend UH. He has twin sisters, one of whom is a freshman at UH who competes on the cross country team. Like his younger sister, he enjoys exercising outdoors, but he prefers to ride his bicycle. In fact, he spends a good deal of time riding in and around campus. That's been made easier by the fact he has lived on campus all four years he has been a student here.
"There is a bayou trail just off campus, which I can ride all the way to my family's house in Bellaire," he said. "I did that a few times over the summer when I was commuting to campus. It's good exercise."
The Episcopal High School graduate applied to a lot of colleges out of high school. At the time, he was considering pursuing a path in film. When all was said and done, however, he ended up selecting UH and deciding to pursue an education in environmental studies.
There's a lot to like about UH, he said, but one of his favorite things about the campus is there is a lot to do, especially at the Student Center and the rec center.
"There's just a lot of fun to be had on campus," he said.