Facilities Planning & Construction
Jim Norcum brings UH excellence to TAPPA
By Kristina Michel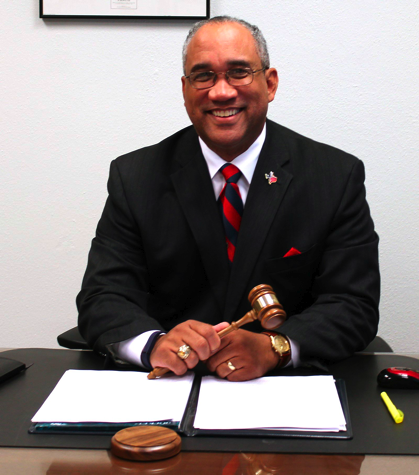 Colin Powell once said, "Excellence is not an exception. It's a prevailing attitude." Jim Norcom, principal construction project manager for Facilities Planning and Construction at the University of Houston, tries to bring that philosophy into every aspect of his work. He has taken steps to make this the ongoing mantra of the Texas Association for Physical Plant Administrators.
Norcom became president of TAPPA in May, and in his first 90 days, he has set in motion some extensive initiatives. Among his top priorities are increasing individual membership, raising money for professional scholarships and strengthening and broadening the association's marketing and communications efforts.
"We have to make sure that what we do brings value to what our profession is asking of us. We try to be relevant every day," Norcom said.
The Texas Association for Physical Plant Administrators is a non-profit organization that promotes proficiency and professionalism in college and university facilities operations. It is a state chapter of the national organization APPA, the focus of which is leadership in educational facilities. TAPPA represents more than 175 Texas education institutions, including four-year universities, and junior and community colleges. It offers certification classes, career-building resources and professional scholarships to physical plant and facilities professionals, and it holds an annual conference in the spring where participants can take continuing education seminars.
Norcom became involved in the association when he started working at UH in 2004. Then associate vice chancellor of plant operations Dave Irvin was president of the organization, and UH was to host its annual conference. Irvin encouraged Norcom to get involved.
A few years later, Norcom became chairman of the scholarship committee. He and the committee worked with business partners to raise scholarship money for facilities professionals who wanted to attend the conference but didn't have the financial means.
"Education has always been at the forefront of my life, and scholarship is near and dear to my heart," Norcom said. "Anyone who wants to continue learning and grow into a better professional but doesn't have the funds, I want to help that person. Money shouldn't be a barrier to education."
In addition to continuing the efforts to raise scholarship money, Norcom has also set in motion a comprehensive overhaul of the organization's communications and marketing efforts to both new and current members. It recently launched its first membership newsletter, which will be a quarterly publication, and added to its online presence with social media pages on LinkedIn, YouTube, Google+ and Twitter. Norcom also has overseen the launch of the association's new and improved website. The page was re-designed to be more visual and easier to navigate. It includes a link to the newsletter, information and resources for members and a countdown to the upcoming conference in April in College Station.
Norcom also is working on more opportunities to recognize members and the efforts of their institutions. One of these programs, Stars Across Texas, is an awards program that will showcase innovative programs by facilities departments and organizations in Texas. A committee will select three programs to be recognized at the conference next year.
Norcom hopes that his position as president will influence even more facilities professionals at UH to get involved in TAPPA, not only as members but also as future leaders.
"I'm very excited about working as the Texas Association of Physical Plant Administrators president," Norcom said. "I'd like to think we're the best state chapter in APPA, and I encourage any UH facilities professionals who are interested to join us and get involved."
For facilities professionals interested in getting involved, Norcom encourages them to first register for the upcoming conference. Membership dues are included in the conference registration fee. Dues also cover access to best practices and statewide news, professional networking opportunities and resources for certification and continuing education sessions. Those interested in taking on a leadership position can start by signing up for a committee.
For more information about the Texas Association of Physical Plant Administrators, visit www.tappa.net.