Facilities Planning & Construction
Iconic campus fountain to return to its former glory
By Richard Zagrzecki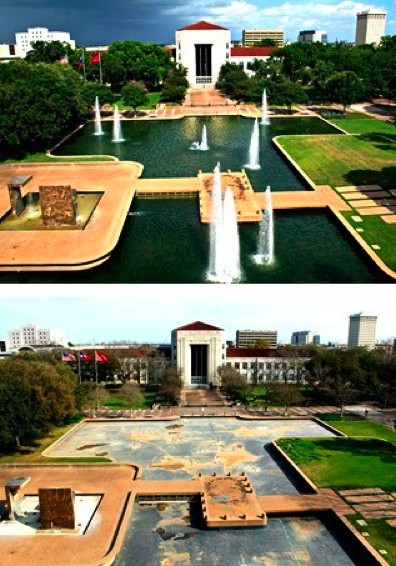 For the past 10 months, the Cullen Family Plaza Fountain and Reflecting Pool has been a shell of its former self.
Last winter, the 43-year-old iconic landmark in the heart of campus was drained of its 200,000 gallons of water and a chain-link fence erected around it.
It was obvious that something was wrong with it. The fountain had been losing 21,000 gallons of water per day. The chemical bill to keep the water pristine and clean kept climbing. Something had to be done.
What that something was, however, had to be figured out, and it wasn't going to happen quickly. The water leakage, unfortunately, was occurring where nobody could easily study it: underneath eight solid inches of concrete that had been in place ever since the fountain was built in 1972.
So the campus community had to wait patiently for the fountain's triumphant return. As the months went by, it may have appeared to some that no progress was being made. Plenty, however, was going on behind the scenes and out of the public's eye.
All the patience will soon be paying off. Several months from now, workers will descend on the site with detailed plans in hand, ready to return the fountain to its past glory. And nobody could be happier about that than those who have worked tirelessly over the past year working on the project.
"It is going to be fabulous. The design of the fountain won't be changing, but people are going to notice it looks happier. It is really going to be pretty and have an added sparkle to it," said Vicky Alsaker, a principal project manager with Facilities Planning and Construction.
With help from DesignLab in the Gerald D. Hines College of Architecture, the decision was made to line the bottom of the revamped pool with plaster, a sharper looking material that will give it a more-stunning look. The dark-colored plaster will also save UH money in the long run, as it will only need to be replaced every 20 years. Previously, the pool had to be drained every three years to be repainted.
Another measure that will save money over time is LED lighting will be installed, which uses less electricity and does not require bulbs having to be constantly replaced. In addition, the LED lighting will allow the pool to be lit in different colors, a more visually appealing feature that will have an even bigger impact after the sun sets. (Click here to see of a video of the new lighting system being tested.)
"The new lighting will be a fun and exciting addition to the fountain and something the campus community will enjoy," Interim Associate Vice Chancellor/Associate Vice President for Facilities David Oliver said. "We can do all kinds of innovative lighting schemes with the LED lights, such as lighting it up green for Earth Day or red for football victories."
A large chunk of the renovation work, however, will be taking place under the surface. Ground penetrating radar testing confirmed what everyone had theorized was the case: the original galvanized piping that had carried water to the fountains is disintegrating and needs to be replaced. In order to do that, strategic cuts will have to be made in the concrete bottom of the pool.
While that was expected, the ground penetrating radar testing found something that they did not expect – that the amount of soil washed away by the leaking water was minimal, meaning there are no voids and holes under the pool that need to be filled in.
"That was great news to hear," Alsaker said. "If there had been voids, we would have needed to take the whole pool apart, refill it with engineered soil and compact it. It would have been time consuming and expensive."
With all the data and test results in hand, FP&C was able to focus on coming up with a strategy for tackling the project. The design work and plans have been completed, and so this fall the project will go out for bid. Once work gets under way, it could take up to six months to complete. At times, the campus community will be impacted. This could include adjacent pedestrian pathways having to be temporarily blocked off.
Theron Mathis, construction project manager with Facilities Planning and Construction, said the campus will be properly notified when sidewalks need to be blocked. In addition, they are going to diligently try to schedule the noisiest work – most of which will take place during the demolition phase when portions of concrete have to be broken up – when most students, faculty and staff are not on campus.
"We appreciate the patience and understanding that the campus community has shown," Mathis said. "This is a complicated project and it takes time to do it the right way. Everyone's patience is really going to pay off in the end when they see the finished product. It is going to be fantastic."