Dining
Fresh Food Company adds homemade granola, other items
By Kimberly Cooper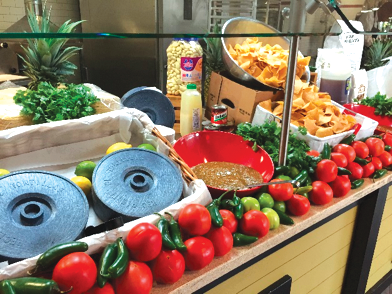 The Fresh Food Company at Moody Towers now offers scratch-made croutons, granola, salad dressings and Shasta salsa.
"We added homemade items like salad dressing and croutons to our collection of scratch-made items," said Nick Arduini, residential food service director.
The Shasta Salsa Station, which features homemade salsa, tortilla chips and fresh tortillas, is another addition to the "homemade" vibe in the dining hall.
"We named the salsa after the school mascot, Shasta," said Arduini. "We are proud of the school we represent and we want our salsa station to reflect our UH pride."
Topping salads with favorite items is now a delicious adventure with homemade croutons, granola and salad dressings.
"We currently offer six different salad dressings along with seasoned croutons at the salad bar daily," said Arduini. "Our granola is made with oats, honey, brown sugar and cinnamon."
University of Houston Dining Services takes pride in offering homemade items to the UH community as enhancements are continuously made to the dining program.