Dining
New Accelerate to Leadership managers on board the UH Dining team
By Kimberly Cooper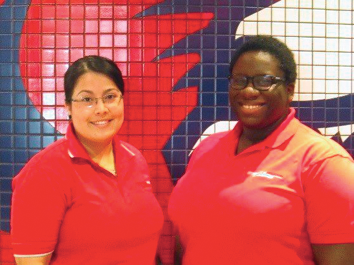 University of Houston Dining Services welcomes two new Accelerate to Leadership members, Sylvia Sanchez and Shanielle Carrington, to the residential and retail operations team.
Aramark's Accelerate to Leadership is a leadership development program that provides new hires with early career profit and loss ownership, people management experiences and supplemental leadership development training.
"I worked for Sports and Entertainment at NRG Stadium last summer, then my manager promoted me to the A2L residential management program this year," said Sanchez, a graduate of the Conrad N. Hilton College of Hotel and Restaurant Management. "I am interested in residential dining and now I have the opportunity to develop my managerial skills while working with the UH team."
The Accelerate to Leadership program offers college hires the opportunity to take on entry-level positions within the company.
"While attending college, I worked as a student manager and then I was recruited to the A2L program in residential," said Carrington. "I really enjoy working in higher education and while working in retail I get to interact with the UH community."
Both Sanchez and Carrington have a common goal and desire to learn more about higher education dining.
"I hope to learn how to develop strong leadership skills and make the right decision for our associates, customers and the client," said Sanchez. "My ultimate goal is to work in the accounting and finance department for Aramark."
Carrington will serve as a location manager for Freshii and Sanchez will serve as food service manager at the Fresh Food Company for one year with UH Dining.
For more information about Aramark's Accelerate to Leadership program, visit the career website at www.aramark.com.