A&F
Signage posted to raise awareness of tobacco-free policy
By Kristina Michel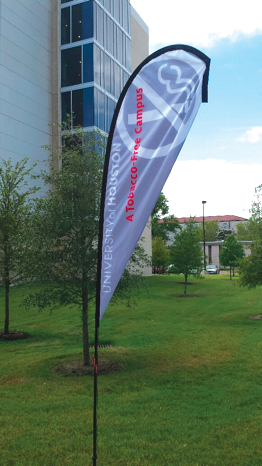 On Aug. 17, the University of Houston's tobacco-free policy went into full effect. The 20 designated smoking areas across campus have been eliminated, and signage has been posted throughout campus to raise awareness of the policy.
The UH tobacco-free policy bans the use of all forms of tobacco products throughout the UH and UH Sugar Land campuses. It also prohibits the sale or advertisement of tobacco products on University property. The policy applies to all employees, students, University affiliates, contractors and visitors, 24 hours a day, seven days a week.
"Our hope with this policy and the signage is to encourage those who do smoke to stop," said Floyd Robinson, assistant vice president for student affairs – health and wellness and chair of the UH Tobacco Task Force. "There are almost 2,000 expected new cases of lung and bronchus cancer in Harris County in 2015. Smoking-related illnesses in the U.S. cost more than $300 billion each year. This policy is beneficial to the UH campus community and will help save lives."
The University's movement toward becoming a tobacco-free environment began in 2001. UH enacted a smoke free environment MAPP policy that banned smoking in University buildings, University-owned or leased motor vehicles, outside areas where smoking could cause a fire risk, and outdoor stadium or event areas where large crowds could gather.
The reach of UH's tobacco ban progressively grew until June 2013 when the current tobacco-free campus policy went into effect, banning the use and sale of all tobacco products on University grounds with the exception of 20 designated areas. These areas were meant to provide students, faculty and staff sufficient time to seek tobacco cessation services and referrals if they wished to stop using tobacco products.
This spring, the UH Tobacco Task Force, which includes members of the Faculty Senate, Staff Council and Student Government, recommended the elimination of the designated tobacco-use areas. The smoking areas were eliminated by the start of the fall semester.
"This change takes place as part of the current trend in the U.S. further recognizing the real hazards of second hand smoke," said Robinson. "We hope that everyone in the UH community will recognize that UH cares about providing a safe and healthy environment for each individual. We also want to provide a supportive environment for those who are trying to quit smoking."
For more information about the University's tobacco-free policy, visit the UH Tobacco-Free Task Force website. The site also contains tobacco cessation resources for students, faculty and staff and a form for reporting violations.