Finance
New executive director of Business Services announced
By Richard Zagrzecki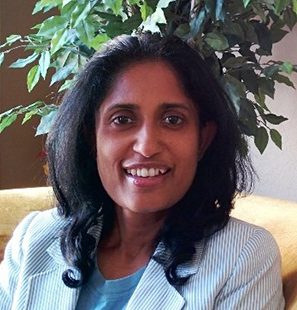 Gayathri "Devi" Bala has joined the University of Houston as the new executive director of Business Services for the divisions of Administration & Finance and Student Affairs & Enrollment Services.
Her first day was Monday, Sept. 15. She replaces Pat Sayles, who retired in August after 26 years of service to the University.
"We are pleased to welcome Devi to the UH community. Her extensive experience will be an asset to the University," Associate Vice Chancellor/Vice President of Finance Tom Ehardt said.
"Devi's background and experience will be a benefit to our business services as she provides strategic management to our processes and procedures," added Dr. Richard Walker, vice chancellor for Student Affairs and Enrollment Services, UH System, vice president for Student Affairs and Enrollment Services, UH.
In her new role, Bala is responsible for the administrative, financial and human resources operations for the two divisions, including budgets and other fiscal and administrative activities.
She has more than 13 years of experience in financial operations with seven of those years in a leadership role. She most recently served as the associate dean of Finance and Business Services at Rio Salado College in Tempe, Arizona. She provided oversight and direction to 25 staff and managed a budget of over $150 million operational, capital, auxiliary and grant funds.
Previous positions she held at Rio Salado College include director of College Business Services, manager of College Fiscal Services, and senior budget analysis.
Through each of these roles, she has developed a broad wealth of knowledge in the areas of business services, cashier services, capital funds, human resources payroll, auxiliary, and budget processes, and has guided campus partners through staff training and problem-solving exercises. During the latter portion of her director role and throughout her associate dean tenure, she also served as adjunct faculty, teaching payroll tax and accounting courses.
Prior to her time at Rio Salado College, Bala worked at Maricopa Community Colleges in Tempe, Arizona, as an accountant for two years and then as a budget analyst for three years. Previously, she served as a financial analyst for Immanuel Campus of Care in Peoria, Arizona.
She has a Master of Commerce from Utkal University in India, and a Bachelor of Commerce from the University of Calcutta in India, both of which are equivalent to degrees in Business Administration. She also has multiple industry certifications, including ICWA, Cost and Management Accounting from the Institute of Cost Accountants of India and post-baccalaureate certificate in Accountancy from Arizona State University. She is also a certified public accountant (CPA), licensed in the state of Arizona, and a certified government financial manager (CGFM).