Facilities Management
Executive director of Facilities Management named
By Richard Zagrzecki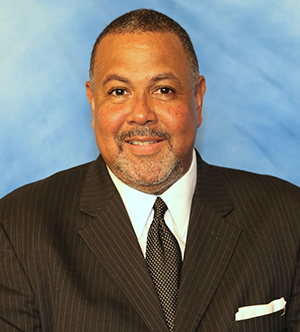 For the past seven years, Herman K. Taitt Jr. has been leading the rebuilding efforts for the public school system in New Orleans following the widespread damage inflicted by Hurricane Katrina.
With the bulk of that work now either completed or under construction, he set his eyes on new goals, which is why the position of executive director of Facilities Management at the University of Houston appealed to him. He applied for and was offered the position. His first day was Monday, Sept. 29.
"We are all very familiar with the television commercials that advertise to our young people to join the military and be all that they can be," said Taitt. "The position of executive director at UH seemed like a natural progression leading to the next step of responsibilities and growth in my career."
Taitt, who is a single father raising a 17-year-old son, has a bachelor's degree in accounting from Southern University at New Orleans. He has attended the University of New Orleans to seek a master's degree in urban regional planning. He started work on an MBA program through the University of Maryland and plans on enrolling at UH to complete it.
He comes to the University from the Orleans Parish School System, where he was the executive director of Operations. He managed school security, child nutrition services, purchasing/state procurement, facilities and capital projects. Since 2007, his primary responsibility has been rebuilding school facilities damaged or destroyed by Katrina.
Overall, he has 17 years of facilities-related experience. His background includes serving as the project site manager at NASA's George C. Marshall Flight Test Center in New Orleans and being the director of Operations and Maintenance at the University of New Orleans. He's also worked as the account manager supervisor of custodial services at Tulane University's main campus and medical school. His career began in the maritime industry, where he spent 10 years in labor management.
"Herman's extensive and diverse background will serve him well here at the University of Houston," said Emily Messa, associate vice chancellor/associate vice president for Administration. "We welcome him and know his knowledge and experience will be an asset for Facilities Management and the University."
Taitt said he is committed to the overall resiliency of the University by addressing pertinent capital and deferred maintenance items.
"I am also dedicated to providing a morale-enhancing level of leadership by allowing everyone a voice, which will help the department accelerate in its journey to greatness," he said.
Since accepting the job, he and his son Taylor have been busy making the transition to Houston and finding a new home to share with Simone, their 6-year-old chocolate Labrador retriever. His interests include photography, African-American history prior to the 17th century, high-performance American muscle cars and adventure travel.
"I embrace both the city and the University of Houston as my new home," he said. "As a public servant, I will work toward greatness in providing a functioning and resilient campus for years to come."