Dining
Event helps students learn to prepare healthy breakfast essentials
By Maria Carrillo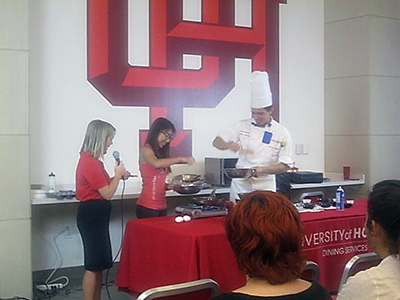 University of Houston Dining Services, in partnership with Student Housing and Residential Life, hosted the first episode of the "What's Cooking Coogs" second season tour on Sept. 23.
The first episode was geared toward teaching students how to prepare healthy breakfast essentials. Fresh Food Company Manager Carlos Guerrero and UH Dining Services Dietitian Sarah Feye demonstrated four recipes that included baked blueberry oatmeal cakes and frittatas.
Feye said about a third of Americans skip breakfast. This can lead to health and body weight issues.
"Breakfast is an opportune time to eat whole grains, low fat dairy, lean proteins such as eggs, and fruit," she said. "Eating these foods is easy on campus with quick grab-and-go options in our Cougar Xpress Markets as well as an array of hot breakfasts at Fresh Food Company, Cougar Woods, Starbucks, Taco Cabana and Einstein's."
More than 30 students attended the educational event, which was held at Cougar Woods Dining Hall. Attendees received giveaways that included spatulas, colanders and cheese graters.
The next event will be Oct. 21 in the lobby of Calhoun Lofts from 7 to 8 p.m. The theme of the event will be "Lean & Green" and will teach students to make delicious vegan or vegetarian meals on a budget.
Check out past What's Cooking Coogs events at the HousingUH YouTube channel.
For more information about UH Dining Services, visit www.uh.edu/dining.