Dining
Muslim Student Association showcases Fresh Food Company's halal station
By Maria Carrillo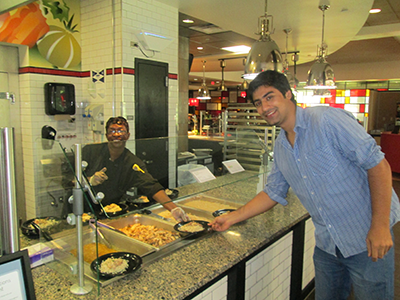 The Muslim Student Association hosted a luncheon in partnership with University of Houston Dining Services to introduce its members to the new Halal & Made Without Gluten Station at the Fresh Food Company in Moody Towers.
The event was held Sept. 23 during lunch. More than 500 portions were served. That's approximately 200 more than is served during a regular lunch period.
The new halal options were added to the Made Without Gluten station in August after extensive research and a student focus group highlighted the growing need on campus.
"I'm very happy to see it happen," MSA President Javid Sultan said. "It's a great initiative taken by the campus officials to accommodate dining options for all people on campus."
UH Dining Dietitian Sarah Feye met with MSA officers and together they picked out a menu item for the event and reviewed ingredients and recipes for diet compliance. Baked chicken with a lemon herb sauce and brown rice was served.
"UH Dining has partnered with the MSA before, and we wanted to continue showing our commitment to expanding halal offerings," Feye said. "Many of the students had not had the chance to try our halal food so this was a great opportunity for them to see our options in person."
The halal station is open Monday through Friday from 11 a.m. to 3 p.m. and Sunday through Thursday from 5 to 10 p.m.
To view the menu, visit the Fresh Food Company menu website.
For more information about UH Dining Services, visit www.uh.edu/dining. Follow them on Instagram at www.instagram.com/uhdining, like them on Facebook at www.facebook.com/uhdining, and follow them on Twitter at www.twitter.com/uhdining.