Dining
The Fresh Food Company revamps its program
By Maria Carrillo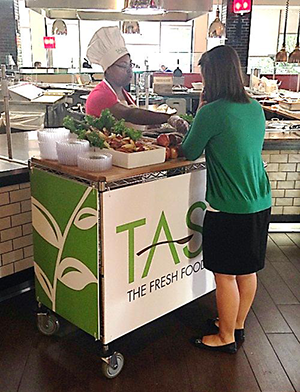 If you haven't visited the Fresh Food Company in Moody Towers this semester, you are missing out. University of Houston Dining Services has implemented numerous changes to the all-you-care-to-eat restaurant from an 18-week menu cycle to TASTE events.
The Fresh Food Company in Moody Towers has started this semester on fire. They have moved from a four-week menu cycle to an 18-week one that provides more diversity and new items. However, diners will not miss out on campus favorites like pizza. These will continue to appear on the menu because of their popularity. UH Dining Services is proud to be one of four schools in the country on this pilot program created by Aramark.
Something else that Coogs might have noticed this semester is the addition of special TASTE events being held every Wednesday in the dining hall. Unique items like chocolate dipped strawberries, milkshakes and flavored popcorn will appear on a stationary or mobile station geared toward increasing patrons' participation in trying new menu items.
A "Halal and Made Without Gluten" station was also added to the residential restaurant. Last semester, UHDS management conducted a halal tasting and focus group that gave them insight into the campus need for increased halal entrees. All the dishes on this station are made without gluten for students who have gluten allergies and when meat is present, it fits all halal guidelines.
"The residential team had a busy summer preparing for the improvements at the Fresh Food Company," UH Dining Services Director of Operations Shannon Mariani said. "They attended in-person trainings as well as weekly conference calls. During the spring semester, they all participated in the Fresh Food Company training that was hosted at UH. Many of the recipes that were tested during that week are included in the new 18-week menu. We want to give students something new and exciting so that can deliver experiences that enrich and nourish lives."
This change has not gone unnoticed. Diners have expressed their support for the changes on Twitter, tweeting, "Fresh Foods has really stepped up their game from last year," and "So proud of @UHDining for adding halal options to their cafeteria menu!!"
To see a weekly updated menu of the Fresh Food Company visit their menu website.