Sustainability Fest promises food, fun and celebration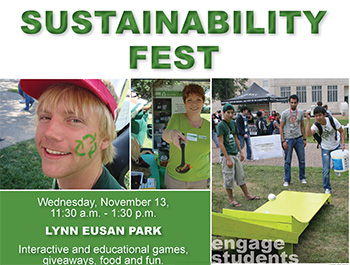 The upcoming Sustainability Fest will include plenty of food, games, educational materials and fun, as well as one more thing students will enjoy - free T-shirts.
The annual event, which is being organized by the UH Office of Sustainability, will take place from 11:30 a.m. to 1:30 p.m. on Wednesday, Nov. 13, in Lynn Eusan Park. The first 100 students who attend will receive a free T-shirt, compliments of UH Auxiliary Services and the Office of Sustainability.
The event celebrates all the sustainability efforts happening at UH, which is consistently recognized as being one of the greenest campuses in the United States.
"It will be full of games, food, education and fun. We invite the entire UH community to come out," said Maria Honey, the assistant director of marketing and communications for University Services.
The fest will take place during the lunch hour, so there will be food. In addition, numerous games will be set up for students to play, including oversized Jenga, Connect 4 and Skeeball.
There will be several giveaway items, including collapsible water bottles and lip balm. There will be information about America Recycles Day, and people will be encouraged to sign a pledge to make a small difference regarding recycling.
"Everyone who attends will have a good time, while at the same time will learn about all the fantastic sustainability-related initiatives taking place all across campus," Honey said.
For more information regarding Sustainability Fest, check out its Facebook page.