David Salsman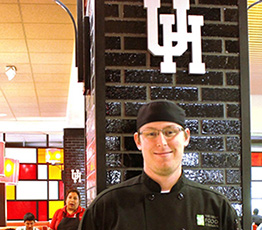 David Salsman is a regular fixture at the round grill station during the dinner hours in the Fresh Food Company at Moody Towers.

Five days a week, he preps, cooks and helps serve whatever entree is scheduled. That can range from hamburgers to quesadillas to stir fry. When his shift is over, his commute home is short - he lives down the hall in Moody Towers.

Salsman is a junior majoring in hotel/restaurant management. He puts in a lot of time in his job with UH Dining Services - around 40 hours every week - but it's allowing him to accrue valuable experience. It's also helping to keep sharp the cooking skills he acquired during the two years he spent at the Culinary Institute of America in New York City earning a culinary arts degree.

The long work hours don't interfere with his studies. His classes are scheduled in the morning, and so by the time midday comes around, he still has several hours to study and work on assignments before he has to don his uniform and head over to the dining hall.

"It's worked out great," he said. "I really enjoy the work."

Salsman grew up in College Station and is a graduate of A&M Consolidated High School. He credits his mother for helping him to discover his love for cooking.

"When I was little, she would take me into the kitchen to keep me quiet. She would have me do little basic things like stirring the cookie dough. It just grew from there," he said.

He also has an uncle who shares his passion for cooking. The two of them talk a lot about food.

He still has about three semesters of study left before he earns his degree from UH. His long-term plan is to eventually become a general manager of a resort or perhaps a casino.

Although he loves cooking - barbecue brisket is his favorite food to make - he doesn't like to watch the Food Network.

"I got burned out on it. That's all they would ever show on the TVs at culinary school," he said.