How the UH2O water bottle filling stations got their name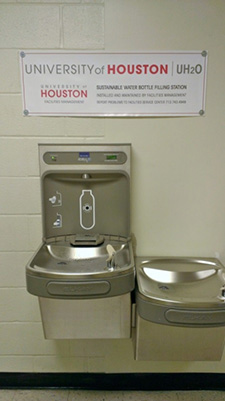 Members of the campus community have probably noticed the UH2O water bottle filling stations springing up across campus, but not everyone knows how they got their name.

Last spring, Facilities Management rolled out a pilot project as part of its focus on supporting university sustainability initiatives. This popular project involved the installation of water bottle filling stations across campus to promote and raise awareness of water sustainability and to reduce the number of plastic water bottles going into local landfills.

As more and more of the filling stations were installed throughout the spring and campus interest in them grew, the suggestion was made that these unique little units should be named. There was one important criterion - the name should represent not just the function but also the university's growing stewardship commitment to protecting the environment and vital resources.

Facilities Management launched a naming contest that was open to all faculty, staff and students. In all, more than 250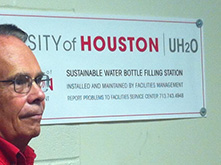 entries were received. Out of all of the entries sent in, one stood out and became the winning name - UH2O. The selection team agreed that UH2O was a unique homage to both a vital natural resource - water - and a great university.

Interestingly, the winning name was submitted by five different people: Tasha Aziz, Aaron Wilson, Diana Hustedt, Maribel Salazar and Jacquie Vargas. Each winner received a gift card and a red refillable water bottle.

So the next time you stop by one of the UH2O water bottle filling stations to get a refreshing refill for your water bottle, know you are a part of the university's commitment to sustainability and resource stewardship.