Stadium utility work temporarily impacts parking in lot 15F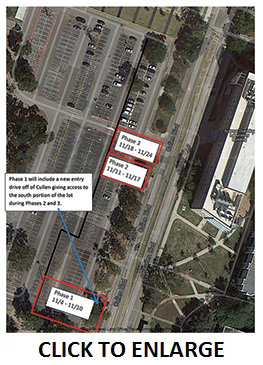 Portions of parking lot 15F have been temporarily closed since Nov. 4 to accommodate utility work for the adjacent football stadium construction site.
The ungated lot, which is directly east of the stadium site, is designated for faculty/staff and has 130 parking spaces. The utility work should be completed Nov. 24. The closure schedule is as follows:
PHASE I (Nov. 4-10) - Approximately 14 parking spaces on the southernmost end of the lot near Cougar Place Drive were impacted.
PHASE II (Nov. 11-17) - Twelve spaces just south of the main entrance off Cullen will be affected. During this time, a temporary entranceway which was created in Phase I near the corner of Cullen and Cougar Place Drive will provide access to the south end of the lot. The main entrance on Cullen will remain open to access the north end of the lot.
PHASE III (Nov. 18-24) - Fourteen spots near the main entrance off Cullen will be impacted. During this time, a flagman will be stationed in the lot to help direct traffic. Access to the lot will remain as it was during the second phase.
To help accommodate displaced faculty and staff parkers, a small parking area will be opened on Cougar Place Drive across from the Cougar Place residential facility. This area will remain open during all three phases and will be marked by signage.