Chef guides students to a victory during 'What's Cooking Coogs'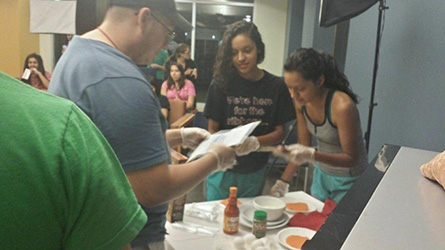 University of Houston Dining Services and Student Housing and Residential Life hosted the second cooking show from the "What's Cooking Coogs?" tour on Oct. 8.
This episode featured "The Chopped Food Challenge: Microwave Edition" where students were split into three teams of 10 individuals and competed against each other in three rounds: appetizer, entree and dessert. For each round, the groups were given a basket of three secret ingredients, access to the pantry and 10 minutes to use the microwave. Executive Chef Michael Bargas provided support to all of the teams by offering his expertise.
The teams were evaluated on taste, creativity and presentation. Team "Spoiled Milk" came out on top.
"All the food was delicious," said Sarah Feye, UH Dining Services dietitian. "In fact, the judges had a hard time deciding the overall winner. Teams presented everything from a balanced meal to entrees that were Cougar themed."
Approximately 40 students attended the event. Those who did not participate in the cooking cheered on their friends.