The Rice Box serves up authentic Chinese food at UH

By Kimberly Cooper
UH Dining Services intern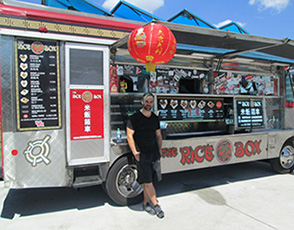 Do you ever walk across campus and wonder where that amazing sweet and tangy smell is coming from?
The Rice Box food truck has been in business for almost two years and has contributed to the sweet smells on campus since August 2012.
John Peterson, a graduate of C.T. Bauer College of Business, opened the Rice Box in February 2012 and has gained a stream of hungry fans since then.
Serving on the University of Houston campus, steady business is not the only experience that this food truck owner has gained.
"Business has been good here on the campus," said Peterson.
With about 39,500 students on campus, Peterson feels that the most rewarding part of his day is "inspiring kids to become business owners one day."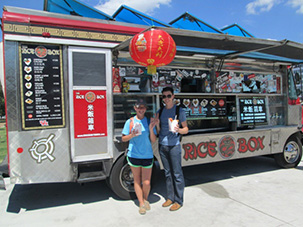 "As an alumnus, I studied Chinese here and having a fast food Chinese truck it is pretty funny," said Peterson. "It is just a big ball of irony and a lot of fun."
With a full menu of sweet and spicy, some of the most popular items include General Tso and Kung Pao Chicken.
"My favorite menu item is the Sesame Tofu box," said Morgan Marchand, a hotel and restaurant senior. "Since I'm a vegetarian, they substitute any meat for tofu. They even give you veggie eggrolls. They're very accommodating for vegetarians."
"I really like how convenient it is to Bauer and it has great food," said Zachary Poncik, a senior accounting major. "The prices are super reasonable for the portions you get and the people are always friendly."
The Rice Box has a dish for every appetite, but to Peterson the experience of serving on campus means more than just making tummies happy.
"It is cool to see students from the business school who see a UH alumni out here serving food and it gives people hope," said Peterson.