More students means more volunteers needed for Finals Mania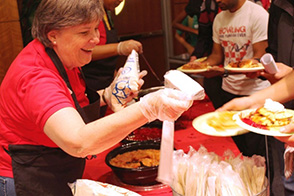 When Finals Mania is held next month, Cindy Barringer will once again be there with a container of whipped cream in hand.
Like she's done numerous times before, she'll be using it to draw smiley faces and words of encouragement on the stacks of pancakes hungry students waited in line for. She couldn't imagine herself not being there.
"I've found my home doling out toppings," said Barringer, the administrative assistant to the dean of University Libraries. "My goal is to make students smile, so I'll do what I can to ensure that happens."
Finals Mania will once again come to the Rockwell Pavilion in M.D. Anderson Library on Tuesday, Dec. 10. Since the event was started, Barringer has volunteered at all but one of them. She'll be there once again this semester and encourages other staff and faculty members to do the same.
"It's great fun. I get to interact in a positive, rewarding way with students, faculty and other volunteers," she said.
Finals Mania, which is held at the end of the fall and spring semesters, provides a break for students as they prepare for final exams. This year, it will be held from 8:30 to 11 p.m. More than 1,800 students are expected to show up and be served pancakes, turkey sausage, coffee, orange juice and a variety of snacks.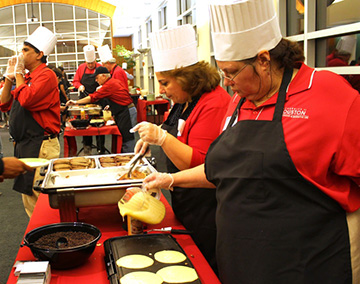 Rebecca Szwarc, administrative assistant for assessment for Student Housing and Residential Life, has a perfect track record of volunteering at every Finals Mania since its inception in the fall of 2008. She'll be donning a large white chef's hat and apron and flipping pancakes from one of the numerous food stations.
"Events like Finals Mania promote a sense of community. I feel it is important that students see faculty and staff on campus after hours," Szwarc said. "It lets the students know that we really care."
Jessica Mize, the marketing coordinator for Auxiliary Services, said the event has gained in popularity each year, but is expected to attract even more students this year. That's because with the opening of Cougar Village II and Cougar Place this semester, more students than ever before are living on campus.
"We need more people to pitch in and help out at this wonderful event," said Mize. "There's a whole host of opportunities, from serving the pancakes to pouring orange juice to greeting people as they come through the door."
Nancy Nguyen, executive administrative assistant for vice chancellor/vice president of Administration & Finance, has volunteered several times. She's done everything from making pancakes and passing out beverages to signing in volunteers.
"It's fun and I really enjoy doing it," she said. "Let's all be part of the Cougar family. We are all in this together."
Faculty and staff who are interested in volunteering should contact Mize by email at jfmize@central.uh.edu or by phone at 832-842-9141.