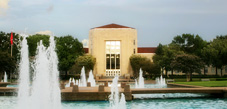 Employee spotlight � Robert Birkline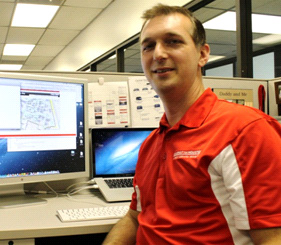 Place a broken appliance in front of Robert Birkline, and chances are he�ll take it apart and try to fix it.

�I fixed my ice maker not too long ago,� said Birkline, who is manager of business solutions for the University of Houston�s Information Technology department. �You can put anything in front of me and I�ll take it apart. I�m not scared of it.�

That mindset comes in handy with his job, in which he helps come up with solutions to problems and needs that departments across UH encounter.

Birkline came to UH in 2009 as an application developer. His job grew over time into more of a business solutions role. His job title was just recently changed.

�UIT needed someone to sort of help guide certain areas of development. Right now, I still actively develop stuff, but I also actively manage the team,� he said.

Much of the work he does focuses on the custom applications within the UH website.

The path he took to get to UH is not a typical one for someone who works with computers. After graduating from Kempner High School in the Fort Bend Independent School District in 1994, he earned an associate�s degree in applied science in automotive technology from San Jacinto College. He was a master Ford technician, but soon realized it was not the type of work he wanted to pursue as a career.

He ended up going back to school at Sam Houston State University, graduating in 2004 with a bachelor�s degree in computer science. He spent four years working at the Houston Chronicle and was part of the core team that supported the newspaper�s website.

�You can thank me when you see ads on chron.com,� he said.

After a short stint working for a hosting company, he was hired by the University of Houston. His office is at the Energy Research Park�s Building 3.

He and his wife of two years have a 4-month-old daughter and live in the Spring area. He also has a 13-year-old son.

As manager of business solutions, he works with different colleges and departments that don�t have their own IT staffs. Recently, he aided Admissions with a tool that allows students to log in to CougarNet and input a phonetic spelling for pronouncing their names that will be useful when names are announced during graduation ceremonies.

�Admissions came to us and said we need this. What can you guys do? We scoped out the project and came back to them and asked if this was what they were asking for, and they said yes,� Birkline said.

Talking with customers about what they need is a key component to his job. His previous experience in the automotive industry, he said, provided him with much of the interpersonal skills he relies on at UH.

�I want to talk to you. I want to find out really what you want. Then we will make exactly what you want instead of you settling for what we give you,� he said.