Student Spotlight
Javier Perea
Marketing assistant
By Richard Zagrzecki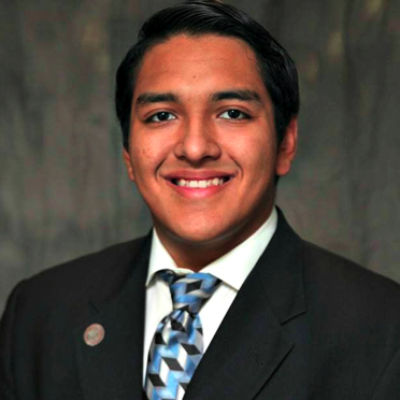 Javier Perea's journey to the University of Houston likely would never have happened if not for a small classified ad his father spotted 13 years ago.
At the time, Perea was a 9-year-old living in Mexico City. His father, an architect who designed courthouses all across Mexico, was reading a newspaper when he noticed a small ad seeking bilingual teachers in the United States. After some talk and careful consideration, he decided to pursue the opportunity.
The family of four moved to Texas and Perea's father began a new career as an ESL teacher in the Conroe Independent School District. Perea and his older brother adjusted quickly to American life, learning English with ease and thriving academically.
"My parents knew that my brother and I wouldn't have the same future in Mexico that we would here, so they found a way to move us here, literally by a classified ad looking for bilingual teachers," said Perea, a senior marketing major at UH.
Perea's parents and brother, all of whom are legal U.S. residents, are following the path to U.S. citizenship, a long and tedious process. Perea, however, through a strange act of fate, already is a citizen. That's because he was born in Mission, Texas, during a short two-month period his family lived there while his father was designing a Frito-Lay manufacturing plant.
After graduating from Conroe High School, where he served as the student body president, Perea ended up choosing to attend UH, mainly because he wanted to remain close to his parents. He applied for and received numerous scholarships, including a major one from the Terry Foundation. At first, he had his mind set on becoming a lawyer. By the end of his second semester, he began to have second thoughts. But after working an internship that allowed him to utilize his natural communication skills, he realized that marketing was the path he wanted to pursue.
Since April, he has worked as a marketing assistant in Auxiliary Services, a part-time student worker position. His duties include everything from creating fliers to working outreach events. He does tablings at all the new student orientations, answering questions and providing information.
"Everything I do in this job basically boils down to creating and nurturing a relationship between students and Auxiliary Services," he said.
Perea has been involved in numerous groups and organizations on campus. He has served as a mentor in the Honors College, which involved being assigned 40 freshmen students and checking in with them to see how they were doing emotionally, academically and physically as they transitioned to college life.
He has also served with Honors Advocates, a volunteer organization that recruits and orients new students to the University and the Honors community. He also was elected into the Bauer Honors Student Advisory Board and served as the corporate alumni relations officer.
Currently, he is an assistant director of marketing for Frontier Fiesta and will be doing graphic design work for the annual event, which takes place in the spring.
Perea is a big fan of the UH football team and watches as many of their games as he can. His love for football got its start when he was a child growing up in Mexico City. He and his brother both played in a youth football league. Later, he played on his high school football team as a center and defensive end.
He is a big Star Wars fanatic whose room is filled with all kinds of posters, models and memorabilia. He also loves to cook and fish, as well as tinker around with his car and computers. He even wants to build his own PC one day.
He has enjoyed his time at UH and especially loves the unique diversity of the student body.
"I can walk around and see bake sales for all kinds of ethnic organizations, or sit in my class and talk to someone who was born in Bangladesh," he said. "You don't find that at other universities. I love that I am exposed to all sorts of cultures."