Parking
New athletics facility will impact parking
By Jessica Mize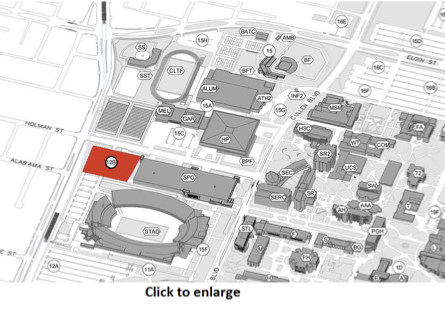 When Facilities Planning and Construction gives the go-ahead for contractors to break ground on UH Athletics' new indoor football practice facility, student parking lot 12B will be impacted.
Located at the corner of Holman and Scott, the affected area will be unavailable beginning Thursday, Nov. 17, so that construction of the $20 million project can commence. More than 300 parking spaces will be lost as a result.
With parking lots and garages on campus already filling up quickly during the week, initiatives like COAST, UH Parking and Transportation Services' new alternative transportation program, will be vital to making this a smooth transition.
"We appreciate everyone's patience and cooperation as we work closely with UH Facilities Planning and Construction and Athletics on their project," said Bob Browand, director of Parking and Transportation Services. "From signage to social media, we're going to do all we can to ensure the campus community knows how this may impact them."
The football team plans to use the facility in the months leading up to the 2017 season, so the construction timeline is a tight one.
For more information on the new facility, visit the project site here.
To learn how you can join COAST and opt to carpool or ride METRO instead of driving to campus, click here.