CULLEN PERFORMANCE HALL
Cullen Performance Hall improvements to be unveiled at open house
By Richard Zagrzecki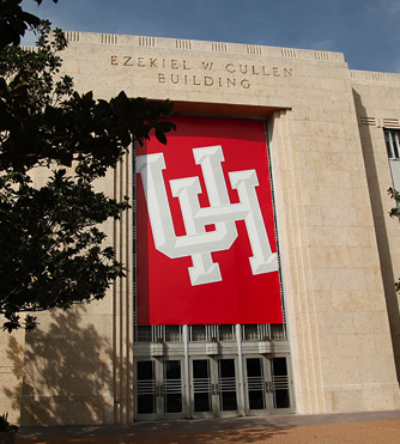 Cullen Performance Hall, the site of hundreds of concerts, shows and lectures since opening its doors 66 years ago, is about to make another grand debut.
Over the past few months, the historic venue in the heart of campus has undergone a host of renovations, improvements and upgrades, which will be unveiled during a Dec. 1 open house. The University of Houston community is invited to attend the special event, which will take place from 3 to 6 p.m. There will be backstage tours, free food and drinks, and upcoming previews.
Some of the improvements the facility has undergone are aesthetic, while others involved safety and infrastructure upgrades:
The performance hall now has a top-of-the-line fire sprinkler system that meets today's strict safety standards.
A new fire curtain was installed. This life-safety device, designed to protect audience members, hangs from the ceiling and will drop automatically if it senses a fire on stage.
The old, worn theatrical curtains that hung from the stage area for many years were replaced.
The rigging system, which is used to change props and scenery for plays, was upgraded and is now fully functional.
The electrical and lighting systems in the dressing rooms were replaced.
The dressing rooms were repainted and carpeted and the furniture was replaced. In addition, the speaker and intercom system was upgraded.
The keying system throughout the facility was upgraded.
The wood stage was refurbished.
Staff offices were renovated.
The entire venue received a massive deep cleaning.
Together, the improvements provide the facility a timely facelift that will make it more appealing to event presenters wanting to book shows and concerts, as well as campus groups and organizations seeking to host activities and events.
Cullen Performance Hall has a long and interesting history. It was built at the same time as the adjacent E. Cullen Building, both of which were dedicated during a ceremony on Halloween night in 1950. Over the years, it has hosted many well-known performers and musicians, including Linda Ronstadt, Devo, Elvis Costello, The Ramones, Joe Cocker, INXS, Eurythmics, Bruce Hornsby and Iggy Pop. Others who appeared in the venue over the years include famed architect Frank Lloyd Wright, future presidents Dwight D. Eisenhower and Lyndon B. Johnson, Sen. Joseph McCarthy, and black activists Stokely Carmichael and H. Rap Brown.
To learn more about Cullen Performance Hall, including information about upcoming shows and how groups and organizations can reserve it for events, visit its newly revamped website at www.uh.edu/cph.