A&F
A&F staff collect uniforms for students at area school
By Richard Zagrzecki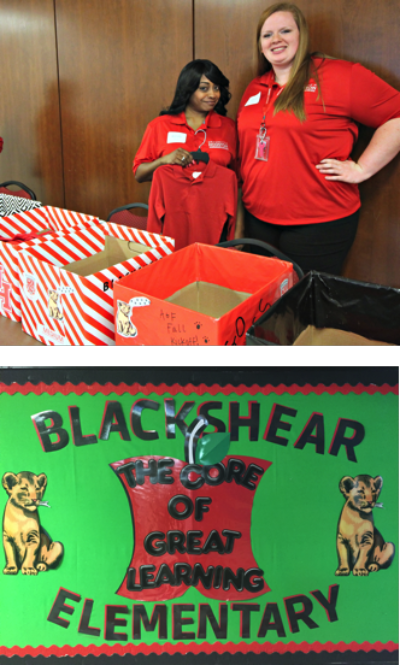 Thanks to the generosity of employees within the Division of Administration and Finance, students at a local elementary school have plenty of new school uniforms to wear.
Altogether, 142 polo shirts were collected for students at Houston ISD's Blackshear Elementary, which is located in the Third Ward, just minutes from the University of Houston campus.
The uniform drive was held in conjunction with the 2016-2017 A&F Fall Kick-Off, which took place Sept. 26 to celebrate all the hard work and dedication undertaken by A&F staff. Employees could bring a new polo shirt to drop off at donation tables set up near the doors to the event.
"Blackshear is our neighbor, and we thought it would be the logical choice to benefit from the kind hearts of our employees," said Lisa Bourque, one of numerous A&F staff who helped organize the drive.
The shirts – along with 12 pairs of gently used pants, 19 gently used shirts, eight notebooks and four pairs of gently used shoes – were delivered to the school Oct. 6.
A group of Facilities Services staff, including Bourque, Aleese Gulick, Wendy Byron, Steve Schoff, Kendrick Cunningham, Angela Chanaba, Cindy Galvez, Yvonne Hernandez, Kriti Wadhera, Bill Allen, Pamela Case and Brian Patrick, decorated the collection boxes and manned the donation tables at the Fall Kick-Off.
It is anticipated the drive could become an annual event that grows bigger and better each year.