Sustainability
Annual Sustainability Fest is just around the corner
By Richard Zagrzecki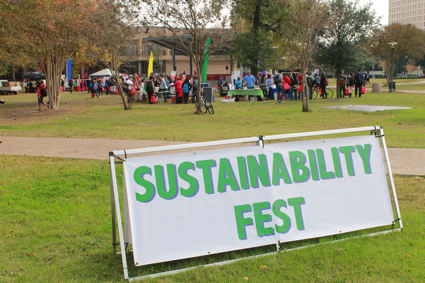 The University of Houston community is invited to attend Sustainability Fest, which takes place from 11:30 a.m. to 1:30 p.m. Nov. 17 in Lynn Eusan Park.
Sustainability Fest offers the UH community practical information about how to live more sustainably in a fun and entertaining setting, while also highlighting sustainability initiatives across campus and the city.
Like last year, the event will feature different zones to better showcase the multifaceted areas within the field of sustainability and to educate people about living more sustainably. Different groups and organizations will man tables within the zones. In addition, many vendors from around the city will have a presence at the festival.
This year, the event will have a zero-waste focus. The goal is to prevent at least 90 percent of the materials generated at the event from being disposed of in a landfill by having it either composted, recycled or re-used. There will be a waste station manned by volunteers to help direct people on where their materials should be placed.
The annual gathering will for the first time this year culminate with a social bike ride around and near the campus. UH students, faculty and staff are being invited to take part in the ride, which will be an informal way for those interested in sustainability issues to meet up with others who share the same passion.
Another addition for this year will be a bike maintenance workshop at 12:50 p.m., during which students and others can learn how to change a flat or fix a faulty brake. They can even bring their bicycle to the event and get assistance with a problem.
There will also be acrobatic yoga demonstration on the Lynn Eusan Park stage, as well as cooking demonstrations. A weather balloon launch also is planned.
Attendees who present their Cougar Card at the check-in booth will receive a tote bag as well as a ticket they can fill out for drawings to win prizes donated by sponsors, including a B-Cycle one-year membership, T-shirts and hats.
Visit www.uh.edu/sustainfest for more information about Sustainability Fest.