Student Spotlight
Ramann Mantha
Student worker in Facilities Services
By Richard Zagrzecki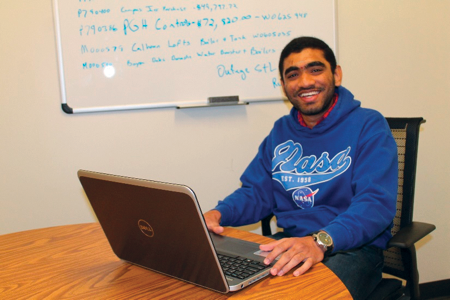 Before starting his graduate studies at the University of Houston a few years ago, Ramann Mantha had never stepped foot in the United States.
He'd never seen American football. He knew none of the teams or the names of any players. He didn't know any of the rules or how the game was played.
That was then and this is now.
After spending the last few years in Houston, he's become a big fan of the Houston Texans and its star player, J.J. Watt.
"I spent a considerable amount of time trying to understand the rules. I had no idea of how the game was played before I came here," said Mantha, a native of Hyderabad, India, whose first love is soccer and his beloved Manchester United team.
Mantha, who will be graduating in December with a master's degree in electrical engineering, is a busy man. Besides his studies, he spends 20 hours a week as a student worker in Facilities Services. There, under the direction of John Jenkins, interim technical services manager for HVAC, BMS, Fire Alarm and Lab Services, he learned the software and skills needed to build computer model graphics of the air handling units in the buildings across the UH campus. Those computer graphics are instrumental in helping to monitor and regulate the heating and air conditioning in all the buildings.
"We have different air handling units for different rooms and different buildings here at the university. So sometimes you have to build air handling units for three rooms at a time, some one room at a time," Mantha said.
With as many buildings and rooms across campus, there's no shortage of computer model graphics to build. In fact, it's pretty much the only job duty he has.
Mantha, who earned an undergraduate degree in electrical engineering back home in India, ended up coming to the University of Houston for his master's studies after an extensive search. He was looking for universities with great research potential, and his attention was on electrical engineering with specific focus on applied electromagnetics and antennas.
When he arrived in Houston, he wasn't sure what to expect. He'd seen Hollywood movies that depicted Texas as a place where everyone wore cowboy hats and boots and rode horses. What he actually encountered was a thriving metropolis comprising people from a wide range of cultures and nationalities.
"I was a bit shocked at first because I saw people from different countries here," he said. "When I came to campus for orientation for international students, I met people from the Philippines, Vietnam, Thailand. Back in India, you don't get to see people from those countries."
Outside of his student worker job, he teaches the energy conversion lab for electrical engineering undergrad students. "I keep very busy," he said. "Many days I am here from early in the morning to the evening time."
He already has a job lined up for after graduation at a Houston company, where his title will be graduate electrical engineer. He is looking forward to the job and working in Houston, a city he has grown to enjoy.