Employee Spotlight
Chad Leveritt
Lieutenant with UHPD
By Kristina Michel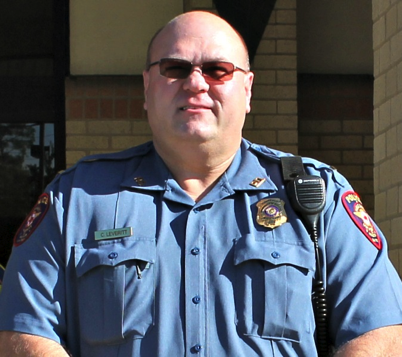 Police Lieutenant Chad Leveritt has almost 20 years of experience in law enforcement. He has worked for many Houston-area law enforcement divisions, including the Harris County Precinct Five Constables Office, and the Dickinson Fire Marshal's office. Yet he can say with confidence that the University of Houston Police Department is one of the most active police departments he's been involved with, and one of the most rewarding.
"This is not your traditional law enforcement job. It's a lot more involved," said Leveritt. "New officers coming in are shocked by the variety of tasks we perform here that municipal and county agencies would never hear of doing."
Leveritt joined UHPD in 2011. He serves as police lieutenant and as the department training coordinator. Leveritt makes sure that all commissioned police officers in the department are meeting their mandatory training requirements by the Texas Commission on Law Enforcement. He supervises the field training officers and reviews paper work and evaluations on new officers undergoing their probationary period before they can assume full duties. Leveritt also works closely with the UH security officers. On occasion, he helps the security officer instructors develop lesson plans and set up training classes.
Leveritt also assists the UH Fire Marshal's Office in investigations when needed and is often called on to assist in police patrols. He is also actively involved in crime prevention and safety programs offered to the campus community. He teaches first aid and CPR classes to both officers and the campus community, and he has done more than 20 active shooter presentations.
"Active shooter presentations are available for groups of 10 or more. Any organization or college can request to take the class," said Leveritt. "We use the Citizen Response to Active Shooter Events or CRASE system. It's a curriculum that's being used across the nation."
Leveritt graduated with a bachelor of business administration from Stephen F. Austin State University. Stephen F. Austin University is also where he met his wife. Surprisingly, Leveritt's first job out of college was not in law enforcement. He worked as a territory manager for Blue Bell Ice Cream and took classes at the Harris County Sheriff's Department Reserve police academy at night. After he obtained his peace officer license, he worked part time as a reserve police officer for the Harris County Sheriff's Department and Tomball PD. After about two years, he decided to pursue a law enforcement career full time.
"I'm a real big believer in the rule of law. When people are victims or taken advantage of, I want to see those who have committed the crimes be brought to justice," said Leveritt. "I believe we're all equal. We're all human beings, and we need to treat each other with respect. If we remember that, this world will be a better place."
When he's not working, Leveritt enjoys spending quality time with his wife and their pets, two cats and a Rottweiler. They frequently volunteer at animal shelters. Leveritt is also Sunday school director at his church and enjoys working with youth groups.