Sustainability
UH initiatives honored at annual luncheon
By Jessica Mize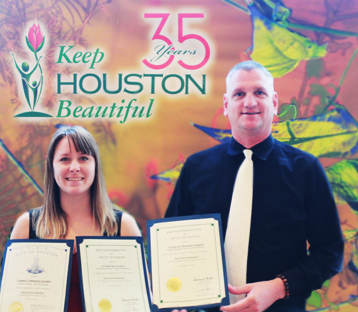 The University of Houston, already recognized as one of the greenest colleges in the nation, received more accolades for its sustainable efforts when campus initiatives from the UH Office of Sustainability and Facilities Management earned recognition at the 30th annual Mayor's Proud Partners Luncheon.
Hosted by Keep Houston Beautiful, the annual event celebrates organizations and endeavors from across Houston that enhance the city's natural landscape and promote beautification, like the UH Earth Day Festival.
The festival, which earned UH's Office of Sustainability an honorable mention this year, featured 20 educational booths where more than 500 attendees learned about everything from proper recycling methods to how to make a rain barrel.
The Office of Sustainability also earned a certificate of recognition for its work with its campus community garden. Managed and maintained by staff and volunteers, the garden boasts 10 beds of organically grown fruits and vegetables that are harvested and donated to local charities and food banks.
Sarah Kelly, program manager for the Office of Sustainability, is proud of the recognition and promises it is just the beginning.
"This is the first time the office has been recognized as part of the Mayor's Proud Partner awards," she said. "It's a huge honor and we already have several projects in the works that we hope to nominate next year."
Facilities Management received an honorable mention for the UH Bicycle Abatement Program, which it manages in conjunction with the UH Department of Public Safety and Student Housing and Residential Life. The program removes abandoned bicycles from campus bike racks and donates them to local charities.
The honor marks the third consecutive year Facilities Management has been recognized for its efforts, proving that UH is consistently working to make not only the campus, but also the city, greener and more sustainable.