Sustainability
Celebrate a healthy Houston
By Urban Harvest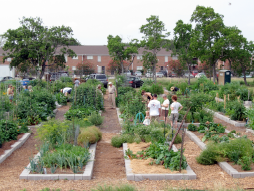 Community gardeners from across the Greater Houston area will gather on Saturday, Nov. 22, at Alabama Garden, 2818 Alabama St., from 11 a.m. to 1 p.m. to celebrate the bounty of locally produced food and vegetables. Every year it proves to be the best pot-luck lunch in town with most of the dishes prepared with the freshest garden produce to be found. There is more than great food at this festival; we come together to see old friends and trade new garden tales.
Urban Harvest also welcomes those curious about community gardening (just remember to bring your pot-luck contribution). You'll find seasoned gardeners happy to share their successes and failures and answer the questions that may be keeping you from digging in.
While the local food movement has a big percentage of the population shunning flavorless food transported from hundreds of miles away, the number of community gardens in the US has been growing since World War II Victory Gardens. Designed to relieve the war demand on the public food supply, these gardens produced more than food by boosting the morale of war weary citizens.
Today's community garden is no different. They build strong communities by bringing neighbors together, cleaning up lots that have become urban eye sores and giving old and young a sense of pride. And of course there's the food - everybody's eating better.
If you talk about community gardens in most other cities, most likely you'd be talking about allotment gardens. These are gardens where one rents a garden plot and grows food for themselves. While we do have several allotment gardens in Houston (Harvest Celebration host Alabama Garden is one of them), most community gardens in Houston are maintained by groups of people for different purposes.
Some are for schools where they complement learning core curriculum as well as teaching nutrition and team work. Faith based organizations garden in order to stock the shelves of food pantries and soup kitchens. Others are market gardens where people grow food to sell and supplement their income. Many exist simply to bring neighbors together to produce fresh food for their own tables. Visit the Urban Harvest web site, www.urbanharvest.org, and check out the community garden directory to see what kind of gardens are in your neighborhood.
You can also learn more about community gardening by registering for the How to Start a Community or School Garden classes. Class 1 covers community engagement and planning. Garden design, fruits and vegetables are covered in class 2. Both are offered each quarter. Urban Harvest classes calendar. If a class is not currently scheduled, you can view the description under our classes community gardening category. Also, check out our website for the benefits of becoming an Urban Harvest affiliated community garden. We will be offering a complimentary tour to three community gardens later this month. Contact community gardens coordinator, Erin Eriksen at erin@urbanharvest.org or call 713-880-5540 if you would like to take part in this tour or have any questions about our affiliated community garden membership.
This column is produced by Urban Harvest. Learn about gardening classes, community gardens and orchards, farmers markets and more at the www.urbanharvest.org. Suzy Fischer is a registered Landscape Architect and principal of Fischer Schalles, a landscape design/build firm. Contact her at Suzy@FischerSchalles.com.